Three Uniquely Lascivious Limericks
by
The Notorious Rhymer
A small selection of the many limericks written under the watchful eyes of former Jethro Tull keyboard wizard, Mr Andrew Giddings,
while recording some Italian songs in Dave Pegg's studio in Barford St. Michael, Oxfordshire.
<![if !vml]>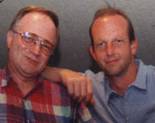 <![endif]>
Ian's flute
A girl, who was pretty astute,
knew that Ian had many a flute.
As she liked some distraction
he put one into action
that was much more delightful and cute.
No strings attached!
This musician by name Martin Barre
once invited a girl to a bar
where he - feeling bored -
learnt the latest bar-chord
by unhooking her stiff lacy bra.
Andy on the rocks
A fan who accosted smart Andy
looked so sexy she made him feel randy.
Much to his frustration
she preferred conversation
so he quenched his desire with brandy.
All rights reserved